Arts and Culture Has a New Address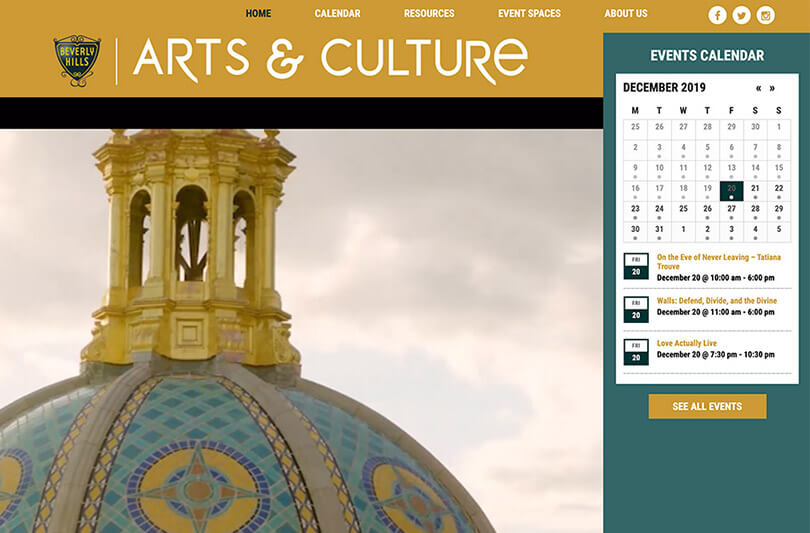 One of the most famous zip codes in the world. The city itself is rather small in comparison to its fame. Only slightly more than 5 square miles and a residential population of 34,000, Beverly Hills has been home to the most notable names in entertainment. Its opulent estates and luxurious shopping district attract millions of visitors from all over the world every year.
There is no question that Beverly Hills is a must-see, whether visiting from the region or having travelled internationally to sunny, Southern California. The city wants you to know that there's quite a lot more to experience than stargazing and couture shopping. Those activities will not disappoint but there's a burgeoning arts and culture offering that you may find unexpected.
Beverly Hills is home to a vibrant and diverse arts and culture scene. It is also home to renowned cultural destinations like Paley Center for Media and the Wallis Annenberg Center for the Performing Arts.
Arts and Culture Commission Expands
In 2019, the Beverly Hills Arts and Culture Commission expanded its purview into public art of various types and cultural programs, events and activities. The goal has been to bring awareness to Beverly Hills as a world class cultural city that offers a thriving and robust arts and culture scene for both residents and visitors.
5D Spectrum was contracted by the City of Beverly Hills to create an Arts & Culture events calendar website. This new website needed a robust calendar functionality that would allow members of the Beverly Hills Arts & Culture community to update and manage their events in an easy-to-use portal. We built in event aggregation and automation wherever possible so that the site would be easy to maintain while showcasing the city's arts venues and local art installations.
Style and Function
The custom WordPress theme is contemporary and elegant, like the city itself and is a mobile-first design. The site features a searchable directory organized by music, theater arts, dance, visual arts and community events. Beverlyhillsarts.org also includes resources for artists, connections to a public art map and the Explore Beverly Hills mobile app. In response to the COVID-19 pandemic, beverlyhillsarts.org added a Virtual Arts section in order to provide continued support to the arts community through a destination for virtual gallery tours, live performance streams, short films, art activities for children and more to remain accessible.